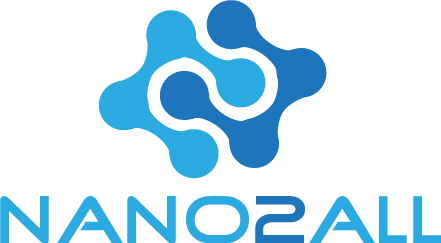 NANO2ALL is a 3.5-year-long European dialogue project that aims to contribute to the establishment of Responsible Research and Innovation (RRI) practices in the field of nanotechnology. It is focused on transparent co-production of knowledge through inclusive and participatory approaches, including national and EU-level dialogue sessions that engage both citizens and relevant stakeholders.
Funded by the European Commission (EC) and led by SPI (Sociedade Portuguesa de Inovação), the NANO2ALL project addresses the "societal engagement on responsible nanotechnology" topic of the Call for Nanotechnologies, Advanced Materials and Production of the Horizon 2020 Work Programme 2014-2015. In the past, various other engagement projects, public surveys and deliberative experiments related to nanotechnology have been performed. NANO2ALL builds on these activities and aims to further the discussions on what would be needed to enhance societal engagement in nanotechnology research and innovation processes. The main aim of NANO2ALL is to contribute to the responsible development of nanotechnology by establishing a European-wide sustainable platform for mutual learning and informed dialogue among citizens and stakeholders involved in the co-production of knowledge.
One of the core tasks of WP2 – Developing a common understanding, under which this report integrates, was the identification of best practices on Responsible Research and Innovation in Nanotechnology with a focus on societal engagement, across Europe and beyond. The purpose of this task (Task 2.2), led by SYSTASI Consulting, was to share knowledge, experience and recommendations with other nanotechnology stakeholders and motivate a wider application of such mechanisms in the European region.
NANO2ALL organized a range of dialogue events across Europe. The dialogues allowed for deliberation of values and purposes underlying a responsible technological future for nanotechnology, and the articulation of recommendations to enhance responsiveness and societal engagement in nanotechnology research and innovation processes, both at national and EU levels. These recommendations have been translated into two deliverable documents: D3.3 Responsible Innovation Agendas at national level, and D3.4 Responsible Innovation Agenda at European level.
The NANO2ALL roadmap integrates findings from the project's participatory and mapping activities. The roadmap also identifies specific actions that should be undertaken to increase societal engagement across the nanotechnology R&I value chains. The roadmap addresses primarily EU and national decision-makers in the Member States in areas of science and technology (with a focus on nanotechnology development).
The report on public understanding, attitudes and fears of nanotech research  presents Nano2All's ethics panel findings, based on the results of the Nano2All citizen and stakeholder dialogues, game theory and case study evaluations. Those revealed some important measurements, providing a bridge between the research community and other stakeholders as envisioned in the EU Research Executive Agency's Responsible Research and Innovation strategy.